We tune up your car with the same spec
of R's Special Limited Model 2016.Tuned by R's Inc CEO Kensaku Matsuno for all settings and adjustments.

Note:

Above price (5,500,000 JPY) is EX-WORKS Hamamatsu Japan.
There may be the case that you cannot import this car by the law of your country.
We hope you understand the above condition.
If you have any questions, further requests and feedbacks, please feel free to ask us to trade@rsrs.jp


Inc was established in 2000 as specialized store in tuning. We have tuned about 2,000 cars and have offered satisfaction to many tuning fans not only in Japan but overseas customers.

We have started to sell Swift tuning parts since 2009 and in 2016, the sales volume of Swift tuning parts in Japan became to be ranked best 3 as a tuning parts maker in Japan.
To meet your request from Swift tuning fan of all over the world, we release of [R's Special Limited Model 2016] which emphasized our fruitful experience in tuning and car parts production.

We will buy a brand new Swift Sport from Suzuki Motor Corp and will tune this car with using the enormous experiences and know-how that we have accumulated for many years only for you.
And we will paint this Swift Sport with this year's color MARSALA and will send it.
We believe it is the best specifications of engine, suspension, body and the seats. Our limited special Swift Sports will be produced only 10 in 2016 in the world ! This car is only right handle drive specifications.

Terms and Conditions



We will put the owners's plate with a serial number to your
R's Special Limited Model 2016.

Special car with 360 ps with RRP full Aero Kit. Almighty vehicle you can enjoy the driving from city ride to circuit run.
Engine
Bore up to 1.9L with M16 engine
Turbo charged engine
Low compression piston
High performance camshaft & reinforced valve spring
Low compression metal gasket
High performance Muffler I PLUS kit
Sport air cleaner
Big throttle kit
Changed injectors
Super ROM ECU remapped
Cam cover painted
Sport Radiator

Powertrain
Light weight flywheel II
Reinforced clutch
Super traction LSD
Body
Performance Aero System kit
Light weight carbon engine hood
Dry carbon lamp support
Suspension
High performance damper kit
High spec stabilizer
Rear camber shim
Reinforced lower arm
Roll center adjuster
Sport brake pads
Sport brake rotor
Stainless mesh brake hose
Power
Special car with 360ps
You can enjoy the driving from city ride to circuit run.
Engine
Bore up from 1.6L to 1.9L with M16 engine with Turbo charged.
Powertrain
Installed the reinforced clutch corresponding to the big engine power and also LSD for circuit use.
Aiming the acceleration furthermore with the racing final gear.
Suspension
We will adopt the spec for suspension parts with more than 3 years experiences for Swift Sport. Also we can accept your demand spec too.
Aero parts
RRP Performance Aero System has the innovated aerodynamic design to reduce air resistance and produces maximum down force. Also at the corner, you can obtain the best cornering with feeling like sticks to the road surface. On a straight course, you also feel the down force. Not only for circuit user but also making someone's head with our stylish Aero System even you ride in town.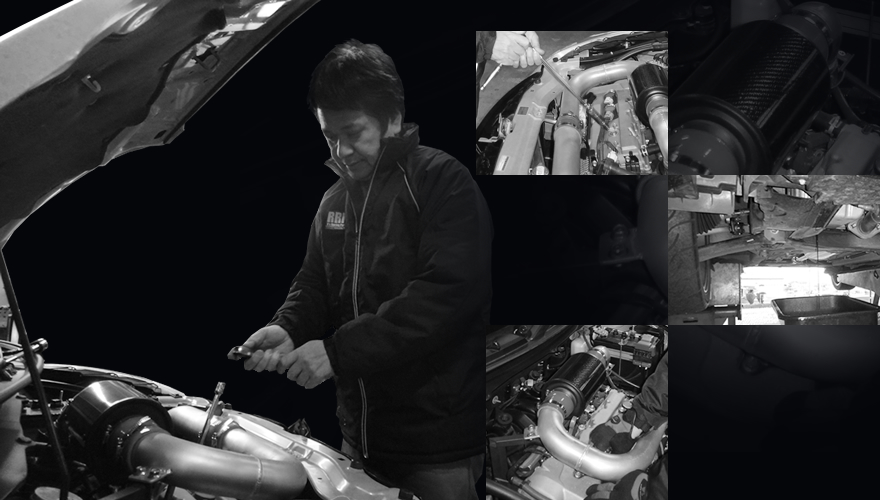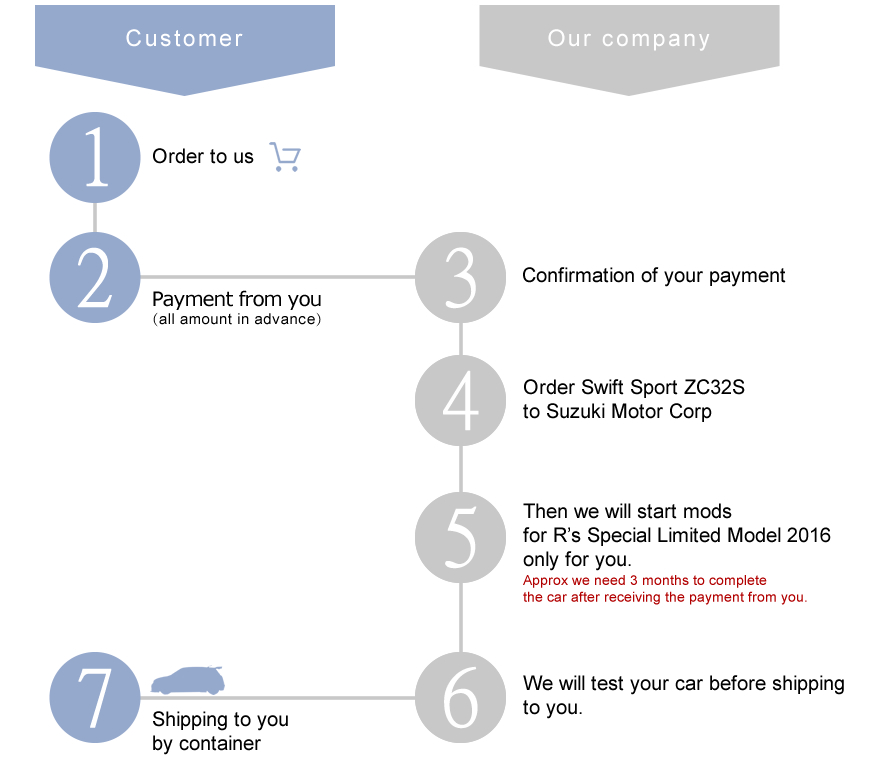 Terms and Conditions