RRP Super ROM ECU for ZC33S
The Super - ROM ECU that is the long - awaited Swift user has been released.

In order to derive the performance of the new type engine, the highest performance improvement was realized while having a safety margin thoroughly data - analysis!

While exploiting the characteristics of the turbo engine, it raises the turbo boost and draws out the potential power. Elongation at high rotation which is unsatisfactory in normal will also turn around without stress.

The ease of handling of the street and a powerful torque feeling to the street user! For sports traveling users, the overall power up and overwhelming torque feeling!It is set so that you can experience the elongation at high rotation.

Swift's driving will be more fun!

Fuel map

Appropriate basic injection map!I changed it taking into consideration fuel economy.
It also pulled out the merit of direct injection turbo.

Air-fuel ratio control map

The air-fuel ratio control map has been changed to optimize it, setting the torque feeling at low rotation, and the engine turns lightly at high rotation.
Ignition map

It is controlled by the same map so that SWIFT's ECU can sell unified in various parts of the world.In places where the quality of gasoline is good like in Japan, by further advancement, you can expect torque up and power up.
Earls finds the optimal ignition timing from huge test data and maximizes the performance of the K series engine.The torque feeling when stepping on the accelerator also improved greatly due to the ignition timing change.

Variable valve timing map

The biggest weak point of the engine is adjustment of the variable valve tie.In order to maximize the performance of the camshaft, precise map control is required and by doing this, it is easy to get on and the power can be improved.
The effect of variable valve tension is also given to the torque feeling at low speed.
With normal data, we reproduce the performance that has not yet been drawn out.
    

Boost control map

Normally restricted, I aimed for further power & torque improvement by boosting up!

Boost limiter change

The fuel cut which occurs at boost-up was raised by MAP change.
    

Torque control map (Torque down control)

Torque & power up can be expected with ECU rewrite with fuel map, ignition map, variable valve map etc etc.However, if the torque control map has not been changed, the data change will also result in improved performance as well as torque down control, ignition timing will be retarded, the throttle will be slightly closed, and the torque will be suppressed.Earls made it possible to control the entire ECU by optimizing the torque control map.
Throttle control map

In the pure throttle map, it is set to throttle control which is quite insensitive so that any user can ride.Responsibility is bad with the bodily sensation, and there is feeling refreshing.In Earls, we aimed for a wire type response and set it so that super linearly controlled throttle is possible.
In normal mode, the throttle control map has been changed so that the low sense of rotation and high rotation can be operated with the same feeling in Earls because there is much sense of incongruity though the response is set differently in low rotation and high rotation.
Change rotation limiter
6000 rpm →6500 rpm(Change only for MT cars)
Normally at 6000 rpm Throttle limiter
 Fuel cut limiter with 6300 revolutions
Speed limiter cut
180 km → 280 km
Normally throttle controlled limiter
Change cruise control limiter (Excluding vehicles fitted with safety package)
Normal 105 Km → 125 Km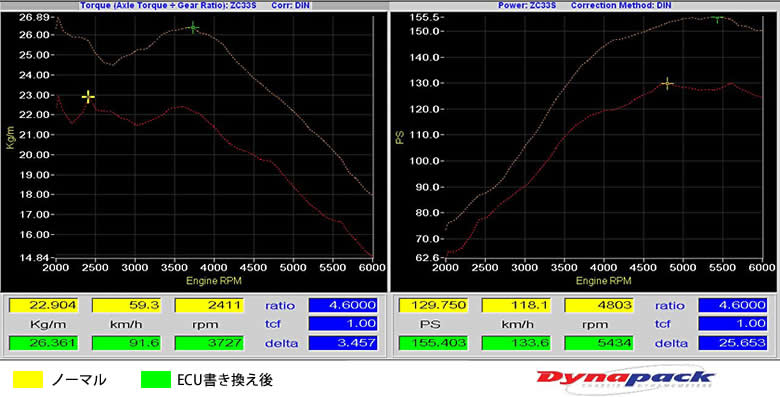 ーRed line normal
ーGreen wire After rewriting Super ROM ECU
Comparison:
After rewriting, horsepower 25PS
Torque improved by 3.4 km.

It will be measured with Ein Pack at Earls.
(2018/3/4 sunny at 20 degrees Celsius)
It is not absolute horsepower comparison, so please understand.