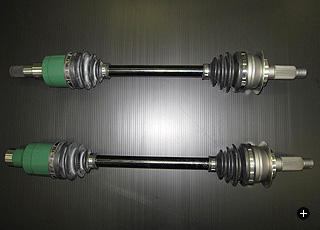 This product is designed to strengthen the drive shaft for FF Sport car like Swift which has a weak point of powertrains. When your Swift car will be tuned like engine power up, fitting LSD and etc, and also driving at race circuit, the drive shaft will be loaded so much especially the ball joint part of outer shaft. In worst case, the ball joint will be broken and won?t be able to drive your car. Even without any breakage of ball joint, sometimes you can hear a strange noise from the ball joint part. RRP Reinforced Drive-Shaft Kit can be used for the maintenance part too.

125% UP of reinforcement drive-shaft than a stock drive-shaft !!

You can change RRP Reinforced Drive-Shaft Kit to your Swift Sport without any processing and will be good performance for your car.