RRP Reinforced front lower arm for ZC33S
The long-awaited ZC33S for Swift Sport has been added to the popular RRP reinforced front lower arm. ZC33S has a longer length than the conventional lower arm due to the normal fenders becoming overfenders, and it seems that the reinforced product is more effective.

Please improve the cornering of ZC33S Swift Sport and enjoy the fun handling.

Two types are available this time, and you can use them as you like.

1) Full set Great value set with everything assembled Reinforced lower arm + roll center adapter + reinforced rubber bush already assembled

2) Semi set Roll centerless set considering cost reduction Reinforced lower arm + reinforced rubber bush built-in



S33-302 RRP Reinforced Front Lower Arm for ZC33S Full Set

suspension of sales

<Set Detail>
Reinforced Front Lower Arm
Reinforced Front Lower Arm Bush
Roll Center Adapter




Fit : ZC33S SwiftSports

| | |
| --- | --- |
| S33-302B RRP Reinforced Front Lower Arm for ZC33S Semi Set | 59,400 JPY |

<Set Detail>
Reinforced Front Lower Arm
Reinforced Front Lower Arm Bush




Fit :ZC33S SwiftSports

Since this product does not have a roll center joint, it is necessary to move it using a hydraulic press from the normal lower arm. I think that it can be installed relatively easily even in an automobile maintenance shop that has a hydraulic press.

A new lineup of the "Reinforced Lower Arm + Roll Center Adapter + Reinforced Bush (S32-301B)" that is already built in the Reinforced Bush with the popular "Reinforced Lower Arm + Roll Center Adapter (S32-301A)"!
In S32-301B, the shape of the reinforced lower arm has been revised, and while maintaining the same strength as the conventional backing plate, the increase in unsprung weight has been minimized by dividing it into two parts.
* "S32-301" and "S32-301A" are the conventional plate types.


| | |
| --- | --- |
| S32-301 : RRP Reinforced Lower Arm for ZC32S | 41,800 JPY End of Sale |
| Fit : ZC32S, ZC72S | |

| | |
| --- | --- |
| S32-301A RRP Reinforced Lower Arm + RRP Roll Center Adapter Set | 70,400 JPY End of Sale |

| | |
| --- | --- |
| Fit : | ZC32S all year type |

The normal arms are thin steel plates molded in one piece, so the intensity is insufficient for its effect of suspension. By changing our reinforced lower arms, the suspension will work normally just like you feel better degree of comfort when driving.
| | |
| --- | --- |
| S-300 : RRP Reinforced Lower Arm Kit (Right & Left set) for ZC11,ZC21,ZC31 and ZC71S all year type | 40,700 JPY End of Sale |
| (recommended item RCA and Bush II are not included) | |

| | |
| --- | --- |
| S-300F RRP Reinforced Lower Arm Full Set for ZC11,ZC21,ZC31, and ZC71S all year type Roll Center Adapter II + Reinforced Bush II assembled | 68,200 JPY End of Sale |
By the cost down of normal front lower arm by Suzuki Motor Co, the arm is made with one piece mold steel plate and the intensity is insufficient so the suspension arm does not work a normal performance specially when you lower the height of car.
RRP Reinforced Lower Arm Kit pulls out the normal performance of suspension as it has and you can feel the real performance of ride height adjustment or of sport dumper kit if you installed them. With our reinforced lower Arms, you can enjoy the driving by ordinary performance of suspension at corner and better response of steeling. We strongly recommend this set for your car.
RRP Reinforced Bush for Front Lower Arm
This item is renewal of reinforced bush for Swift Front Lower Arm. We have reviewed the material and hardness and also changed to an affordable price for a customer. Harder than the stock bush but little softer than current bush item. We recommend this bush refreshing the suspension by aging or for a user to time attaching the race.

Rubber hardness
For ZC31S and ZC32S
Normal about 60 degrees
Made by RRP 75 degrees (both front and rear)
For ZC33S
Normal about 60 degrees
RRP made 70 degrees (both front and rear)
One set for left and right (2 front side, 2 rear side) Press-in work is required when replacing.

RRP Roll Center Adapter
S32-305 RRP Roll Center Adapter for ZC32S

RRP Roll Center Adapter

This item is a renewal item with success in price down but the performance is as same as before. Also the shape of rubber boot was changed with improving the endurance. We hope every customer can use this item in affordable price.
When low down the height of Swift car, the position of front lower arm will be formed like bowing so we found there were many cases impaired the good original suspension design of Swift car.
To fit the roll center adapter to your car will improve the handling and feeling of tire contact to the road by the proper the lower arm position.
With using RRP Reinforced Lower Arm and RRP Reinforced Bush together, cornering speed, performance at corner and also control performance will be improved.
------------------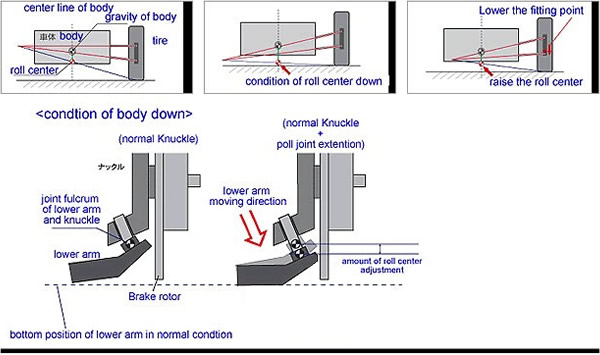 Theory of Roll Center
In normal condition :
The roll center is a center line when a car rolls and is upper part of body center line which is crossing an extension line of upper arm and bottom arm for suspension and center part of tire. Normally the roll center should be lower part of body gravity. The volume of basic roll will be decided by the length between its gravity and roll center.
When body height lower :
The gravity of body is also lower so the roll center is also lower than normal position. So when a body height is lower than normal height, the volume of rolls will be larger. The spring rate of suspension will be usually upper when body height will be lower, but this occurs the suspension performance lower.
Adjusting roll center :
To change the position of lower arm of suspension, the position of roll center will be higher and enable to be a best position of roll center. The performance of suspension will be showed as an essential performance.
Please click the left banner to inquire us, we'll reply you as soon as possible.