By the cost down of normal front lower arm by Suzuki Motor Co, the arm is made with one piece mold steel plate and the intensity is insufficient so the suspension arm does not work a normal performance specially when you lower the height of car.
RRP Reinforced Lower Arm Kit pulls out the normal performance of suspension as it has and you can feel the real performance of ride height adjustment or of sport dumper kit if you installed them. With our reinforced lower Arms, you can enjoy the driving by ordinary performance of suspension at corner and better response of steeling. We strongly recommend this set for your car.
RRP Roll Center Adapter
This item is a renewal item with success in price down but the performance is as same as before. Also the shape of rubber boot was changed with improving the endurance. We hope every customer can use this item in affordable price.
When low down the height of Swift car, the position of front lower arm will be formed like bowing so we found there were many cases impaired the good original suspension design of Swift car.
To fit the roll center adapter to your car will improve the handling and feeling of tire contact to the road by the proper the lower arm position.
With using RRP Reinforced Lower Arm and RRP Reinforced Bush together, cornering speed, performance at corner and also control performance will be improved.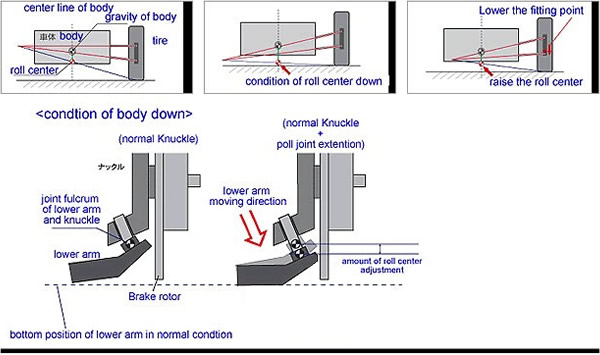 Theory of Roll Center
In normal condition :
The roll center is a center line when a car rolls and is upper part of body center line which is crossing an extension line of upper arm and bottom arm for suspension and center part of tire. Normally the roll center should be lower part of body gravity. The volume of basic roll will be decided by the length between its gravity and roll center.
When body height lower :
The gravity of body is also lower so the roll center is also lower than normal position. So when a body height is lower than normal height, the volume of rolls will be larger. The spring rate of suspension will be usually upper when body height will be lower, but this occurs the suspension performance lower.
Adjusting roll center :
To change the position of lower arm of suspension, the position of roll center will be higher and enable to be a best position of roll center. The performance of suspension will be showed as an essential performance.