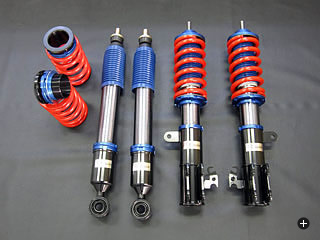 We have been collecting the data for 1 and half year to develop the new damper kit for Swift car enable to be used from street users to international circuit users and finally we could designed the new damper kit with a lot of opinions of professional drivers, our technology, experiences cultivated in racing fields.

All circuit oriented users can be satisfied with new RRP High Performance Damper Kit II with traction feeling compatible on sticking to road and pulling the performance of tire grip out.

The concept of developing this product was to improve the time running faster and easy control of car whoever drive a car with our new damper kit II even in changing the surface of road like rain condition, less grip road and street road.

Finally we could realize and clear the all demands for damper kit from street users to circuit racers of Swift. The drive feeling will be almost as same as FR car less under-steering which FF car?s characteristic. The width of damping force can be adjusted for optimizing vehicle performance and wide setting capability on kinds of roads from streets, winding roads to highway cruising with comfort drive feeling. But in basic, we would like to use our RRP High Performance Damper Kit II in high spring rate like sport driving. You might not feel comfort in high spring rate in usual but we have developed the drive feeling comfortable even high spring rate specification.

Please enjoy driving with our high performance and potential damper kit.
RRP Racing Pillow Upper
Prevent from frayed NO-SAG upper rubber of Swift car and enable to adjust the front camber with a pillow direct feeling. Optimum alignment can be adjustable and you can obtain an easy feeling, response and cornering speed up. Not only RRP High Performance Kit II but also you can fit RRP Racing Pillow upper to other dumpers.