For ZC11 and ZC21 users, we release RRP Super ROM ECU reflash.
RRP Super ROM ECU for ZC31 is very reputed item for Swift Sport users and only Swift Sport user could be re-programmed the stock ECU. But this time, we can re-map ECU for ZC11 and ZC21 users too.
Bringing the large volume of Swift Sport ZC31 mapping data out, we pull out M13 and M15 engine potential maximally not only power and torque but also response of acceleration and feeling of torque curve which a driver can feel with continuously try and error for the mapping data.

The engine displacement is small one but adjusting the VVT and spark timing, you can feel the difference than the stock condition car as for the torque and you can enjoy the driving than before.

Appropriate fuel injection volume :
We have set the mapping data pulling the torque in low rpm and also targeted the high power in high rev.
Appropriate spark timing :
Our challenge was how we can forward the spark timing with the regular gasoline and finally we could adjust the best spark timing for ZC11 and ZC21.
Appropriate VVT (Variable Valve Timing)
To perform the best performance with the stock camshaft setting, we have done the delicate adjusting for VVT. Everybody thinks that VVT is effective in high rev but in fact, the main purpose is to obtain the torque in low and mid range. So we thought this point was the important matter to map.
Changing the temperature on VVT moving :
Stock temperature on VVT moving : more than 80 degree to 70 degree
Changing Rev limiter :
6,800 rpm to 7,300 rpm
Changing Speed limiter :
182Km to 300Km
Electric fan move temperature change
[Before changed]
?Normal AC off
?Start moving fan below 97 degree
?Low move on 97.5 and stop on 95 degree
?Low to High start to move on 102.5 degree
?High to low move on 100 degree
[After changed]
?Low move on 92 degree and stop on 88 degree
?Low to High move on 98 degree
?High to Low move on 95 degree
As for gasoline to be used :
We have set the mapping data for ECU with the regular gasoline in this high price of gasoline. You can enjoy with eco and power both.


Please check your ECU number reference with the picture.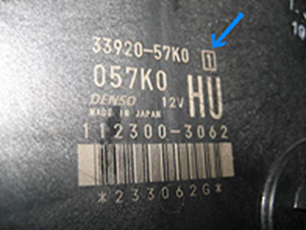 Before placing an order to us, we would like you to check the following ECU number. If there?s no such ECU number with us, please contact with your ECU number. We need you to send your ECU to analyze and to make the basic data. (This costs 30,000 JPY)
Correspond ECU number ( as of 8th October 2014 )
DBA-ZC11 ZC11 MT
33920-63J00
33920-63J01
33920-63J02
33920-63J03
33920-63J11
2292073K00
2292073K01
DBA-ZC11 ZD11 AT
33920-63J23
33920-63J24
33920-73K30
33920-73K31
DBA-ZC21 ZD21 AT
33920-73K40
33920-63J44 NEW
33920-63J43 NEW
33920-63J42 NEW
33920-63J41 NEW

[ Note ]
Each ECU has the immobilizer function so you need to send YOUR ECU to us. It will take 1 or 2 working day to re-program ECU data and we will send your ECU back to you ASAP.